Gender mainstreaming into the end-to-end Early Warning System for hydro-meteorological events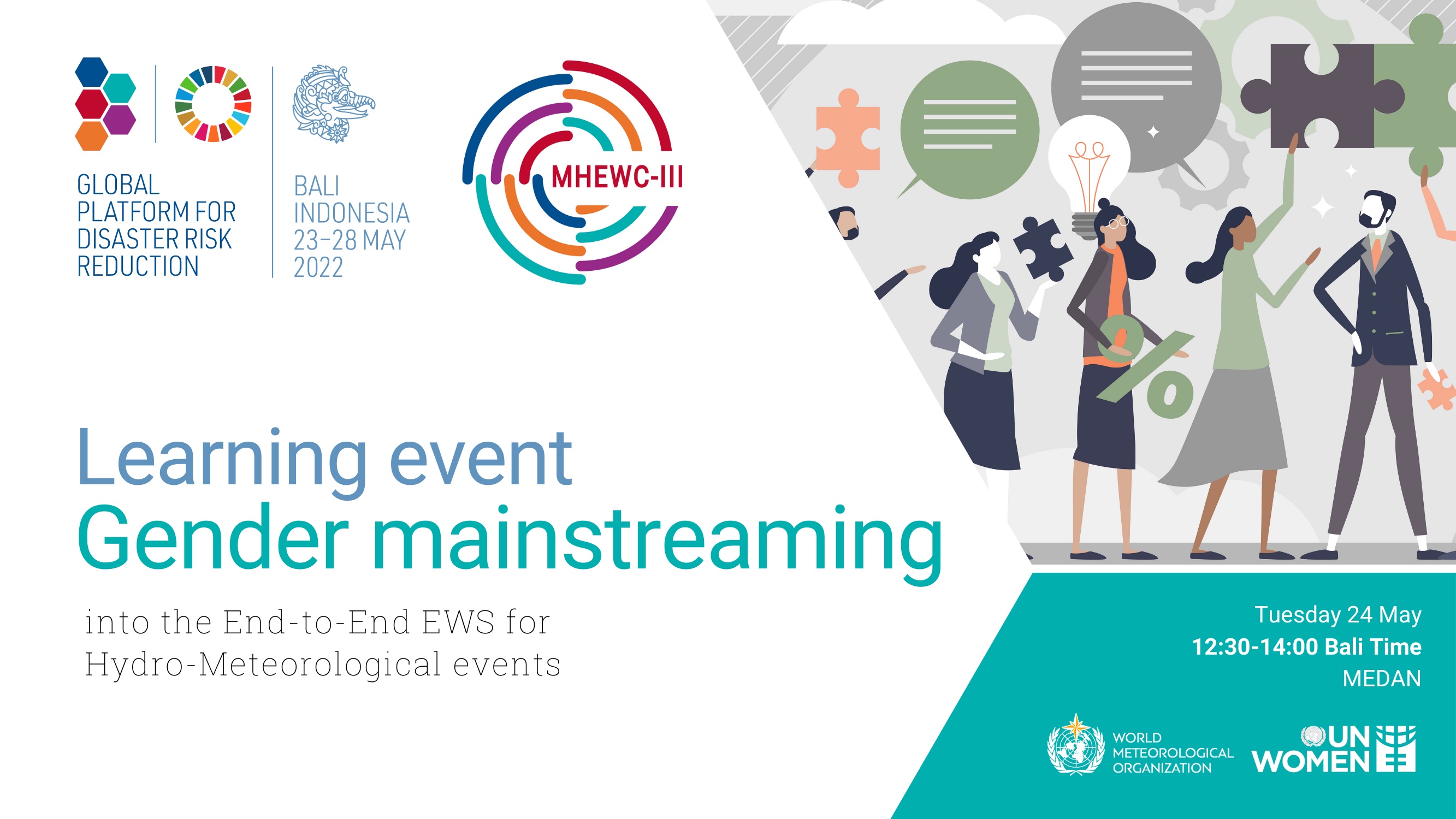 This MHEWS-III Conference in-person side-event is organised by WMO and UN Women with CREWS Secretariat, WYN and UNDRR support. It will be held on 24 May 2022, from 12:30-14:00 (Bali time). Venue: Medan, Bali International Conference Center.
This 90-min in-person side-event will be a mix of hands-on exercise (60min) and panel discussion (30min), including two speakers, Ms Sharon Bhagwan-Rolls, Regional Manager, Shifting the Power Coalition in the Pacific and Dr Constance Awinpoka Akurugu, Gender expert, University of Business and Integrated Development Studies Wa, Ghana.
Main session objectives:
WHY gender-responsive and transformative early warning systems? Highlight the rationale for an inclusive, locally tailored, people-centric, and accessible end-to-end early warning system for hydro-meteorological events given differential disaster risks and impacts for different genders including marginalized and high-risk individuals, such as women, girls and people with disabilities.
WHERE do we stand with gender-responsive and transformative early warning? Take stock of progress including identifying challenges and key opportunities for securing gender-responsive, women-led, and inclusive end-to-end early warning system for hydro-meteorological events, which mainstream gender equality and social inclusion across all aspects of early warning systems and "reach the last mile" including the most vulnerable and marginalised.
HOW do we secure gender-transformative and inclusive early warning systems for risk-informed resilience? Highlight and share good practice and experience of people-centric and effective EWS, and key enablers of change including i) developing the knowledge and capacities of National Meteorological and Hydrological Service (NMHS) professionals and disaster risk managers (e.g. sharing risk knowledge, data-collection, gender analysis, modelling and forecasting, developing alerts, dissemination, communication, strengthening response capabilities and preparedness); and ii) fostering cooperation and partnership with gender and social inclusion decision-makers and representative organizations and networks (e.g., women's organisations) for improving last-mile communication and response.
Participants: Staff from the National Meteorological and Hydrological Services, Disaster Management/Civil Protection, and individuals working in the management of hydrological and meteorological events.
Expected outcomes/results:
Following the session, it is expected that the participants will have practical knowledge of the needs, challenges, good practices, and key enablers (e.g., tools and activities) for mainstreaming gender into end-to-end early warning systems for fast-onset hydro-meteorological events (e.g., floods) and slow-slow onset processes (e.g., drought).