Blogs
GRRIPP Launch New Reference Guide on Gender and Sexual Minorities in Disaster Risk Reduction
On the International Day for Disaster Risk Reduction 2023, the GRRIPP Reference Guide Task Team launched our latest reference guide, 'Gender and Sexual Minorities in Disaster Risk Reduction'.
On the International Day for Disaster Risk Reduction 2023, the GRRIPP Reference Guide Task Team launched our latest reference guide, 'Gender and Sexual Minorities in Disaster Risk Reduction'. As the theme of this year's International Day is "fighting inequality for a resilient future", we thought it would be the perfect time to spotlight an often-overlooked aspect of Disaster Risk Reduction (DRR). Taking over 10 months to develop, the team compiled as many resources possible, including reports, academic papers and teaching material, which address gender and sexual minorities in DRR. 70 resources were found and organised into 10 themes such as Capacities and Agency, Faith-Based Organisations (FBOs) and Policy and Legislation. Each resource is accompanied with a short summary, an access link, as well as information on language and other connecting themes.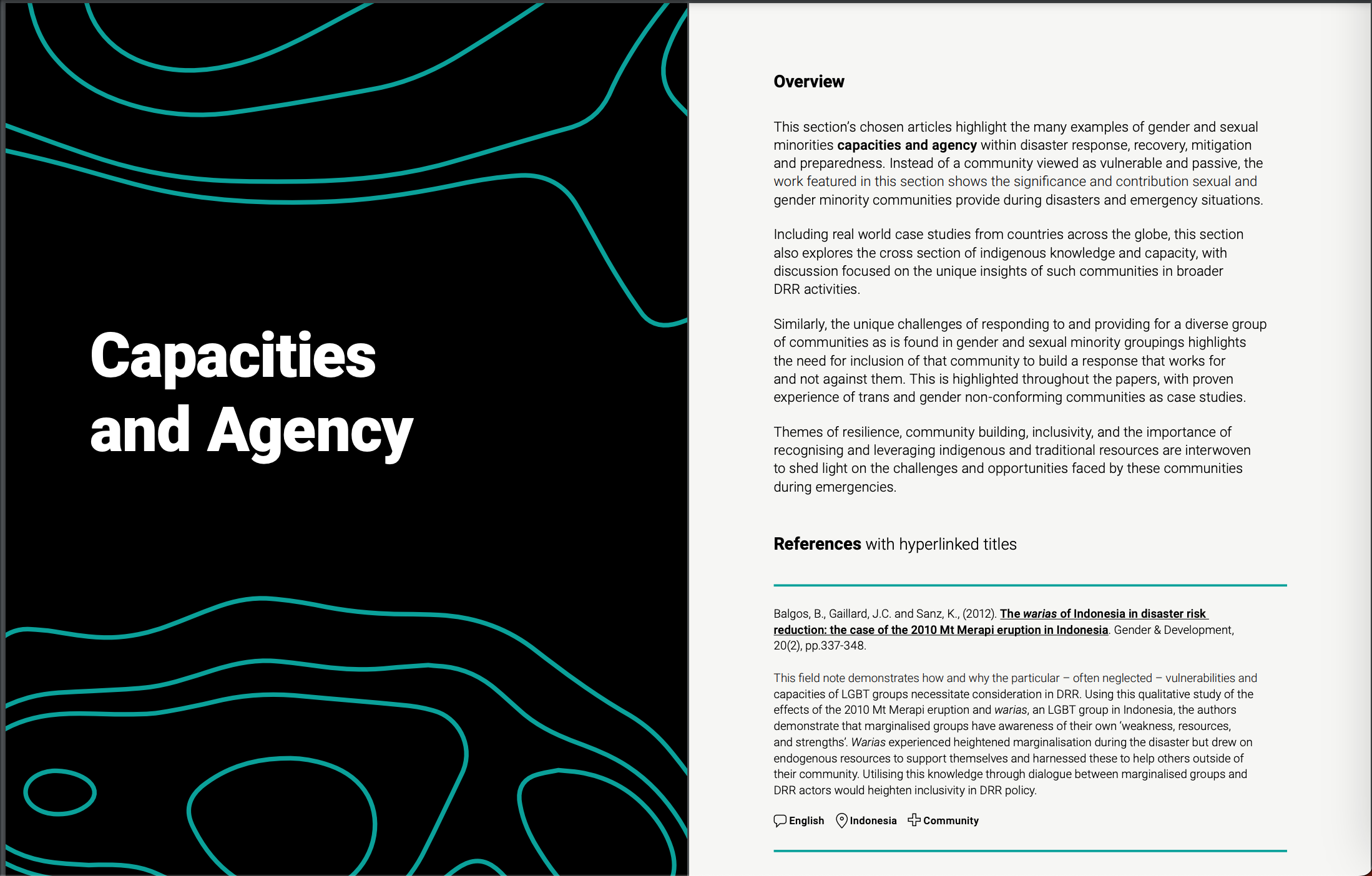 After the publication of the first GRRIPP Reference Guide in August 2022, we wanted to expand the series, and more importantly, we wanted to expand what we mean by 'gender'. Recognition that gender influences an individual's ability to respond to and recover from a disaster has been established for decades. However, within the disaster risk reduction and management communities, the concept of gender has not been fully expanded. Within the field, "gender" has often been synonymous with cisgender women and girls, whilst men, boys and gender minorities have been largely overlooked. Similarly, the specific needs and capacities of sexual minorities have all but been ignored in broader disaster research and discussions. This is where the idea and more importantly the need for this reference guide was born.
IN ADDITION TO, NOT INSTEAD OF
The purpose of developing this reference guide is to add to and inform the growing interest of truly inclusive DRR, rather than replacing or redirecting the focus away from dominant gender and disaster discourse. This reference guide does not aim to undo nor replace the efforts of scholars, researchers and practitioners on cisgender activities in disasters. On the contrary, we acknowledge that decades of research have demonstrated the benefits of engaging with and learning from cisgender women and girls to enhance disaster response and recovery efforts. We believe that working to a wider definition of gender, beyond a binary approach, is beneficial to all genders in as much as it brings further attention and (hopefully) resources to an area that can too easily become a tick-box exercise.
Unlike the previous reference guide, the resources compiled on this topic were considerably less diverse in language and are predominantly written by white, cis academics from countries that dominate mainstream academia. While a lack of diversity in this area is concerning, the depth of the work found was largely positive and proved fruitful in thematic focus. We were also pleased with the number of resources we found which focused on specific countries or regions. Based on these findings, the Task Team emphasise three Calls to Action: Amplify the voices of under-represented communities and locations in global academia, Design Research Accordingly and Be an Ally.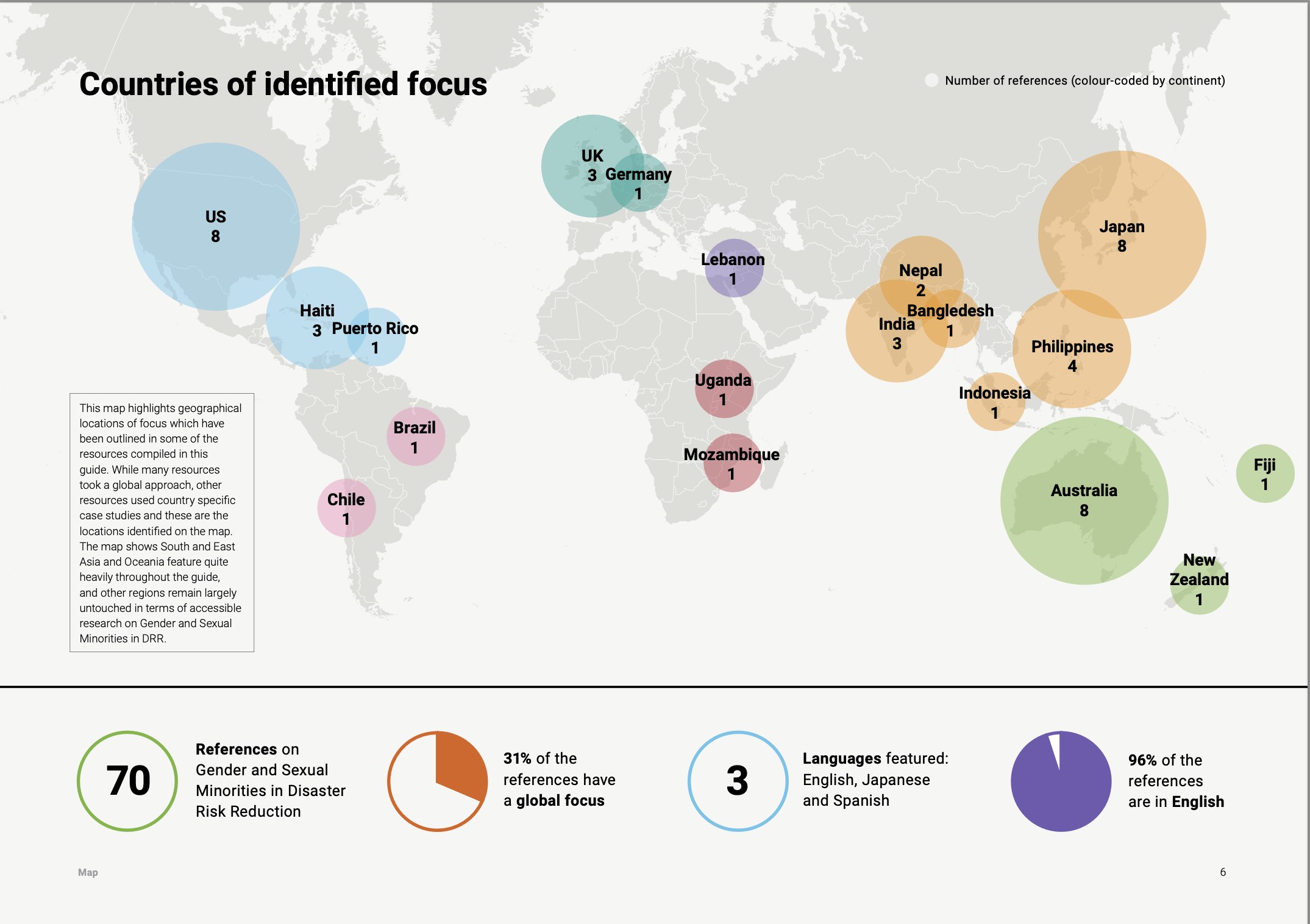 We have designed this guide to be easily accessible for all those interested in the topic including students, early career researchers, those working in academia and research, practitioners or policy makers. It is not exhaustive in its content but is a solid foundation across several key areas within a broad definition of gender and disaster. Gender and sexual minority communities and scholars continue to face pushback, threats and violence when speaking on this topic. During the launch of the reference guide, we experienced first-hand the attempted silencing when we were interrupted by trolls who used hateful iconography and distraction tactics in an attempt to derail our discussion. To hear more about this and how this attempt has fuelled our fight for inclusive DRR, read this statement collectively written by the Reference Guide Task Team.
We ultimately hope that readers of this guide pursue the gaps in research that we have identified and continue to expand on what we mean by 'gender' by challenging non-inclusive discourse in the field of disaster science. We urge you to seek different ways in you can contribute to the promotion of truly inclusive DRR that values, includes and learns from gender and sexual minorities.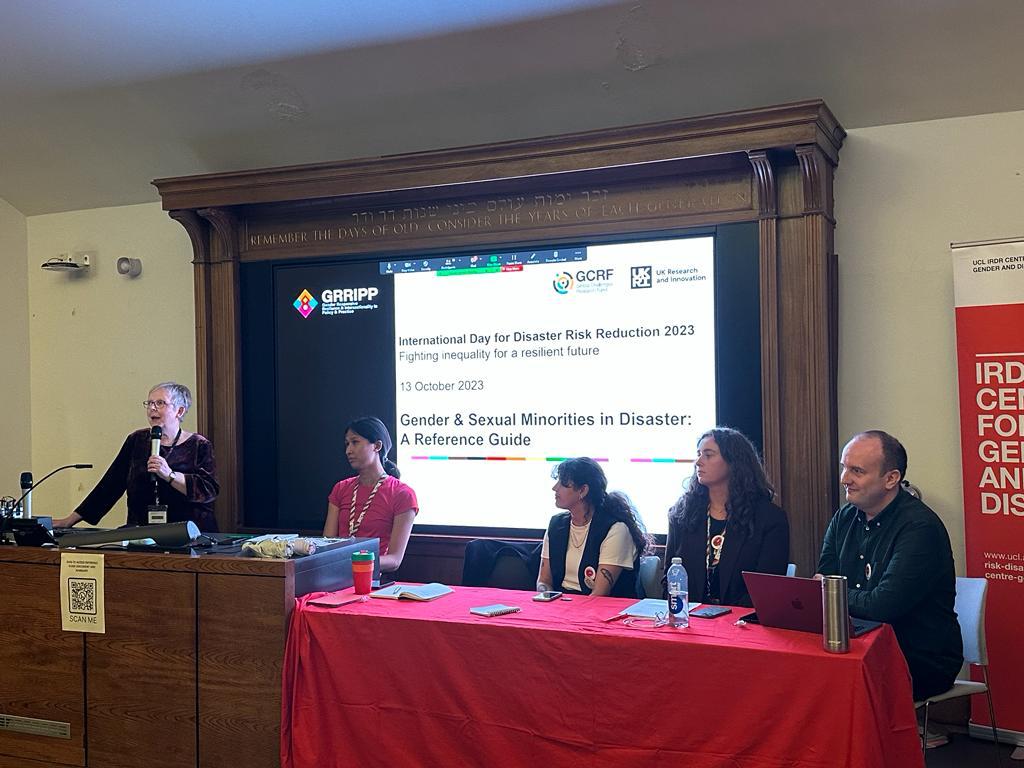 This guide would not have been possible without the diverse knowledge and experiences of the Reference Guide Task Team. The team consisted of Olivia Walmsley, Kevin Blanchard, Maureen Fordham, Jessica Roberts, Eshka Chuck and Dr Zahra Khan. Thank you all for making possible.  Another huge thank you to Lucy Peers who perfectly captured GRRIPP and our focus on Gender and Sexual Minorities in an accessible, inclusive and bold design. To see more of her work, please visit www.lucypeers.com.
The UKRI Collective Fund award 'Gender Responsive Resilience and Intersectionality in Policy and Practice (GRRIPP) - Networking Plus Partnering for Resilience' is funded by the Global Challenges Research Fund.
It is a 4-year global collaboration and knowledge-exchange project, implemented by a collective of universities. It aims to bring together theory, policy and practice to promote a gender-responsive approach to disaster management and development. 
---------------------------------
Maureen Fordham:

(She/her)

 Professor Maureen Fordham is the Director of the

 IRDR Centre for Gender and Disaster

 and has been researching disasters since 1988. Maureen is an expert on community-based disaster risk reduction and vulnerability analysis, focusing on the inclusion of a range of marginalised social groups in disaster risk reduction. She was a founding member of the 

Gender and Disaster Network

 in 1997.

O



livia Walmsley:

 

(She/her)

Olivia is the Global Monitoring and Evaluation Coordinator for the GRRIPP Project and a Co-Director of the IRDR Centre for Gender and Disaster. Olivia has led the development of GRRIPPs and the Centre's Reference Guide Series. Olivia holds a BA in Geography and an MSc in Risk, Disaster and Resilience from IRDR, UCL.

K



evin Blanchard: 

(he/him)

Kevin Blanchard MSc FRGS (he/him) is an experienced policymaker, trainer and advocate focused on helping to ensure the inclusion, visibility and empowerment of marginalised and hyper-marginalised groups in disaster risk reduction (DRR). Kevin works internationally alongside grassroots organisations, educational institutions, national governments, UN organisations and charities to develop inclusive policy, training & practical guidance. Kevin is also the founder of 

DRR Dynamics

.

J



essica Roberts: 

(they/them)

Jess is an early career gender and sexuality researcher. They graduated from the LSE with a distinction in MSc Gender (Research), specialising in queer socio-linguistics. They have presented primary data from their research at two international conferences and have recently been working with UCL Centre for Gender and Disaster on the GRRIPP project. Their other interests include disability advocacy.

E



shka Chuck:

 (they/she) is a first-year philosophy MPhil student at UCL, where they have just graduated from their BA. She specialises in moral (anti) aggregation and climate ethics. On the side, they try to get involved with any LGBTQ+-related research they can, most recently: improvements to trans healthcare in the UK (contributing to the Cass Review). Her other interests include campaigning for changes to LGBTQ+ and neurodivergent inclusivity at UCL.

Zahra Khan:

(she/her)

holds a PhD in Chemistry and is currently the Outreach and Research Assistant for GRRIPP. Zahra coordinates event to widen GRRIPP participation across the disciplines in an attempt to bridge the gaps between STEM subjects and social sciences.
---