What is the WRD Programme?
The Women's Resilience to Disasters (WRD) programme proposes a comprehensive package to strengthen women's resilience to disasters and threats, including climate change and COVID-19, contributing to sustainable, secure, and thriving communities. The objective is for WRD countries to (i) adopt gender-responsive decision-making and governance systems, and (ii) enable targeted action to build the resilience of women and girls.
The WRD is currently being implemented in the Pacific with support from the Australian Government, with sister programmes in the Caribbean, Lake Chad Basin, and Sahel region. WRD countries in the Pacific include Fiji, Kiribati, Vanuatu, and the Solomon Islands.
The WRD programme makes multi-million-dollar co-financing with technical support, the WRD knowledge hub, and the WRD register of experts and practitioners available to all its partners.
How is the WRD implemented?
Implementation of the WRD Programme is driven at country level and supported by regional and global components.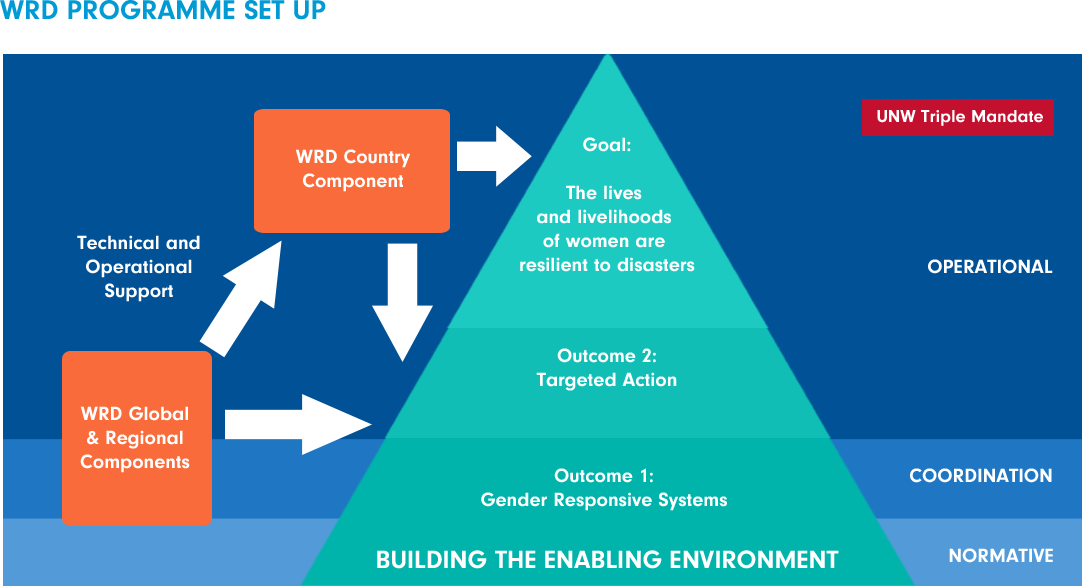 The global WRD component is a pivotal element of the WRD.  It advances women leadership and gender-responsiveness in global disaster risk reduction and climate change processes and frameworks.  It strengthens coordination across key stakeholders working to build the enabling environment for women's resilience to disasters. Importantly, it supports global knowledge sharing, advocacy, and access to tools and expertise through the WRD Knowledge Hub and across the WRD Framework.
The regional WRD component focuses on women's leadership in regional disaster risk reduction processes, as well as knowledge management, advocacy, and gender and disability assistance for regional mechanisms, movements, and coalitions.
The WRD country component provides targeted action to strengthen women's resilience, to close identified gender gaps in disaster risk reduction at country level, and to build gender-responsive systems. It advances different elements of the WRD depending on the national context, policy priorities, existing initiatives, needs, and capacities.
The Women's Resilience to Disasters Programme elevates women's voices and agency in disaster and climate risk reduction and resilience building, with game-changing potential for gender equality and women's empowerment and leadership.