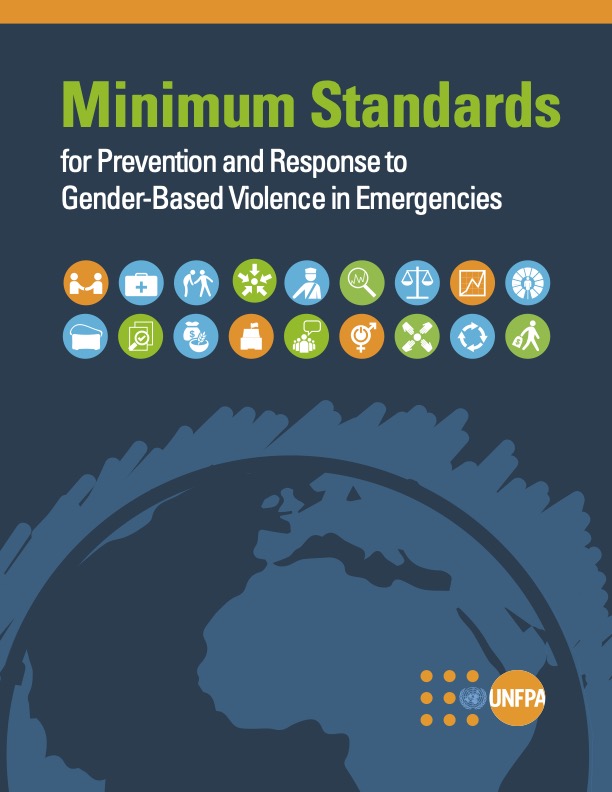 Publication
Minimum standards for prevention and response to gender-based violence in emergencies
December 2015
This document aims to promote the safety and well-being of women, men, boys and girls in emergencies. It providea practical guidance on how to prevent GBV in emergencies and facilitate access to multi-sector services for survivors. The Minimum Standards are universal and applicable in all humanitarian contexts.
The 18 inter-connected Minimum Standards define what UNFPA must do together with partners, national authorities, communities and other humanitarian actors to prevent, mitigate and respond to GBV in emergencies. The Minimum Standards were developed through a consultative process and are based on international good practice and draw upon lessons from the field and inter-agency tools and guidelines.
During emergencies such as conflicts or natural disasters, the risk of violence, exploitation and abuse is heightened, particularly for women and girls. At the same time, national systems and community and social support networks may weaken. An environment of impunity may mean that perpetrators are not held to account. Pre-existing gender inequalities may be exacerbated. Women and adolescent girls are often at particular risk of sexual violence, exploitation and abuse, forced or early marriage, denial of resources and harmful traditional practices. Men and boys may also be survivors. GBV has significant and long-lasting impacts on the health and psychological, social and economic well-being of survivors and their families.