News
UN Women and the Youth Leaders and Young Professionals (YLYP) Network host event highlighting the role of youth and digital technology for women's resilience
In the lead up to CSW67, youth activists advanced their key asks related to digital technology to build women's and girls' resilience to disasters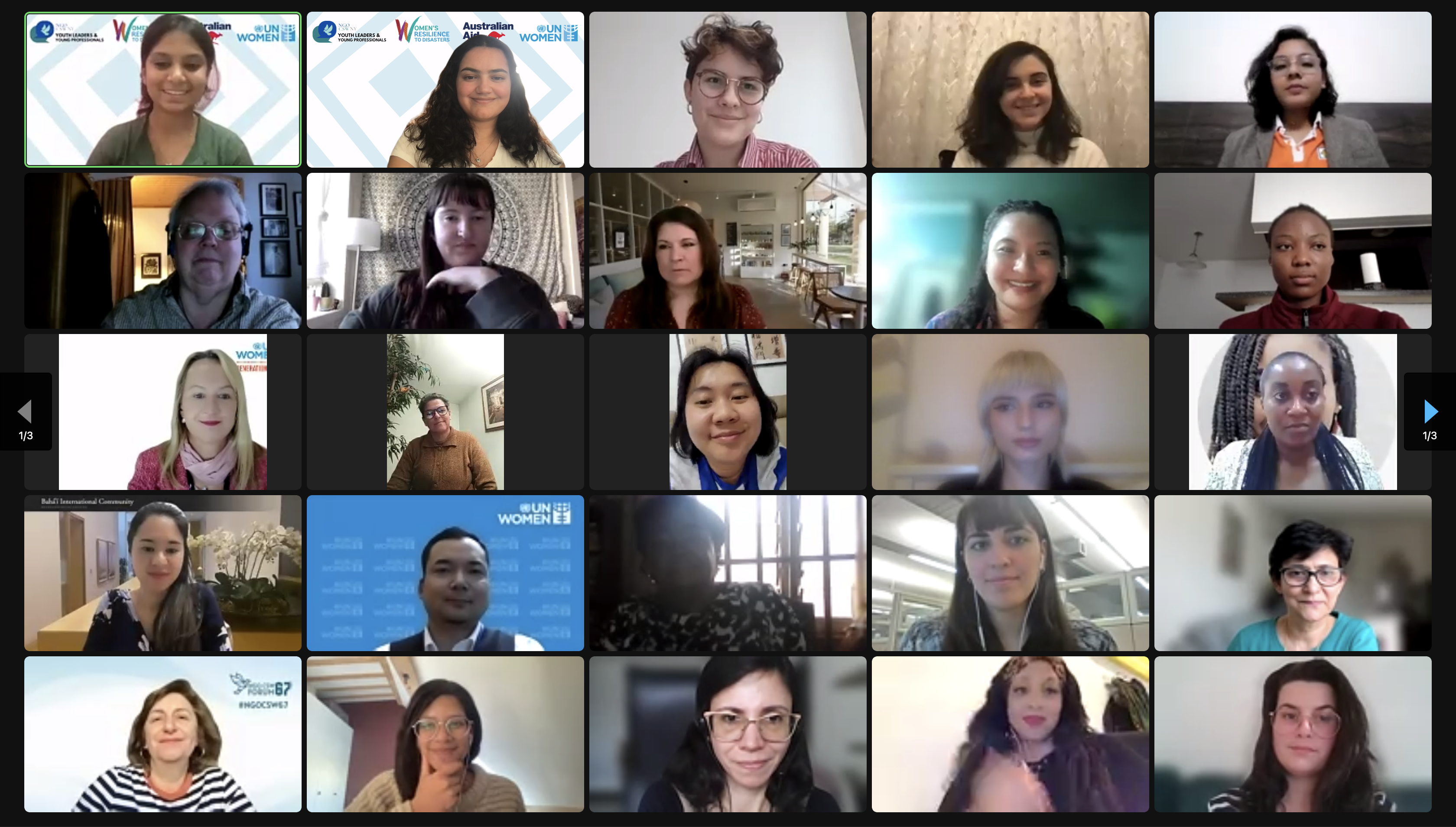 On the 15th of February 2023, an event was hosted online by UN Women's Women's Resilience to Disasters (WRD) Global Programme Team and the Youth Leaders and Young Professionals (YLYP) Network. Part of the YLYP event series leading up to the sixty-seventh session of the Commission on the Status of Women (CSW67) and the NGO CSW Forum, the event engaged over 60 young people in a discussion on the role of digital technology and the importance of youth participation in building women's resilience to disasters.   
Titled "The Role of Access to Digital Technology in Building Women's, Young Women's and Girls' Resilience to Disasters", the event prepared participants for the CSW67's main theme: "Innovation and technological change, and education in the digital age for achieving gender equality and the empowerment of all women and girls" and resulted in a Youth Charter on digital technology to build resilience to disasters.  
Facilitated by Srruthi Lekha Raaja Elango from the WRD Team, the dialogue included the participation of Jeyran Jafarova, Secretary of the Non-Alignment Movement (NAM); Devan Zingler, Co-Chair of NGO CSW/NY Youth Leaders & Young Professionals (YLYP); Luísa Franco Machado, Data Economist at the Deutsche Gesellschaft für Internationale Zusammenarbeit (GIZ), digital rights activist and Young Leader for the SDGs for the UN; and Maria Campuzano Perez and Camille Adle from the WRD team as speakers.  
The discussion showcased the use of Information and Communication Technologies (ICTs) to enhance the access to and use of risk information for young women and girls, while providing a platform to maximise participation of youth not only in using technology, but also in joint advocacy for its just and transparent use, particularly when it comes to disasters. It also served to raise awareness of the challenges that exist while employing technology for disaster risk reduction and the ones mostly faced by women, young women and girls, and offered the WRD Knowledge Hub as a potential solution for addressing such challenges.  
---
---