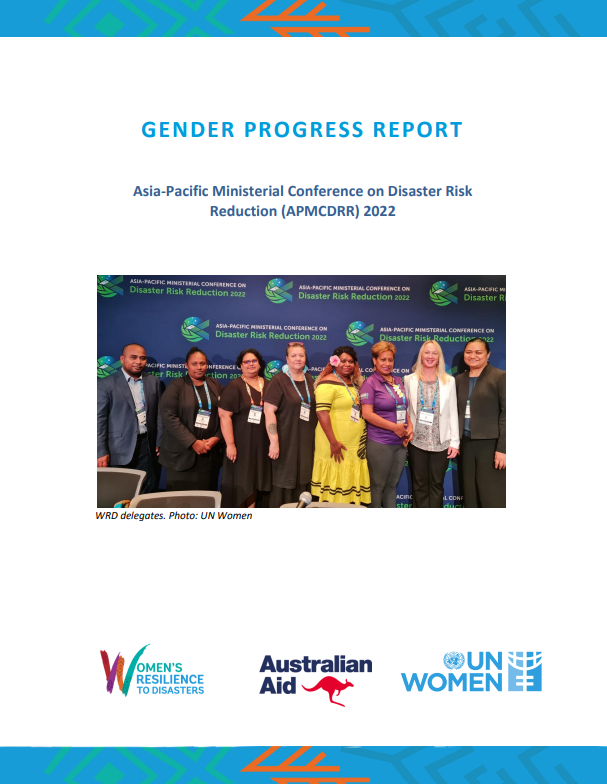 Asia-Pacific Ministerial Conference on DRR 2022: gender progress report.
The Asia-Pacific Ministerial Conference on Disaster Risk Reduction (APMCDRR), took place between 19-22 September 2022 with the theme: "From Crisis to Resilience: Transforming the Asia-Pacific Region's future through disaster risk reduction." The conference focused on: i) investing in resilience and preparedness; ii) shock-proofed infrastructure and systems; and iii) resilient communities. It examined three cross-cutting themes of "Localisation," "Inclusion," and "Science, Technology and Knowledge."
The Women's Resilience to Disasters (WRD) programme, supported by the Australian Government is UN Women's signature programme in disaster risk reduction. The WRD programme aims to render the lives and livelihoods of women and girls resilient to disasters and threats, including climate change, contributing to sustainable, secure, and thriving communities. The objective is for WRD countries to adopt gender-responsive risk reduction and resilience decision-making and governance systems enabling targeted action to build the resilience of women and girls. This report focuses on WRD activities and support before and during the APMCDRR.