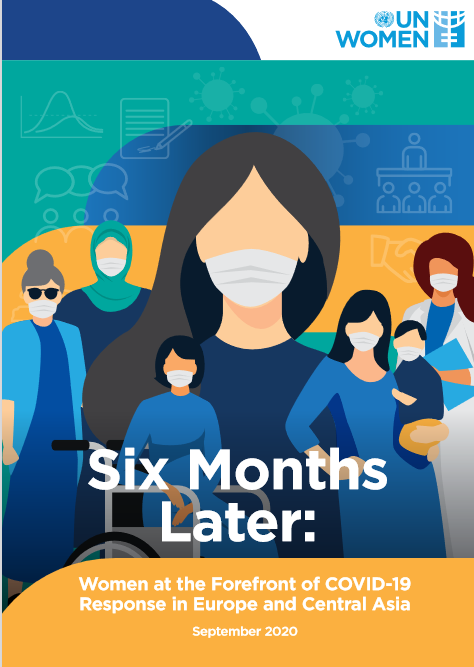 Six months later: Women at the forefront of COVID-19 response in Europe and Central Asia
This publication provides an overview of key results achieved by UN Women in terms of COVID-19 response and recovery in its programme countries and territories in Europe and Central Asia between March and August 2020.
On 13 March 2020, the World Health Organization identified Europe as the epicentre of the coronavirus pandemic. The Europe and Central Asia (ECA) region was among the first to respond, taking far-reaching measures to contain the spread of the virus and to protect public health — entire populations were under lockdown, airports were closed, schools and workplaces were shuttered and people had to cope with the abrupt loss of personal interactions with extended family, friends and community members. Local, national, regional and global assessments of pandemic impacts predict deep recessions, increased tensions and lingering, profound impacts on lives and societies.
To identify the effects of the pandemic and the emerging needs of women, UN Women engaged in consultations with partners across the ECA region. The consultations included representatives from governments, women's machineries, civil society organisations (CSOs), violence against women and girls (VAWG) service providers, United Nations agencies, private-sector companies and other development actors. The aims of the consultations included informing decision makers and developing a set of recommendations to ensure that COVID-19 response and recovery efforts will recognise the needs of women and girls and will incorporate women and girls' central role in maximising the effectiveness of such efforts.