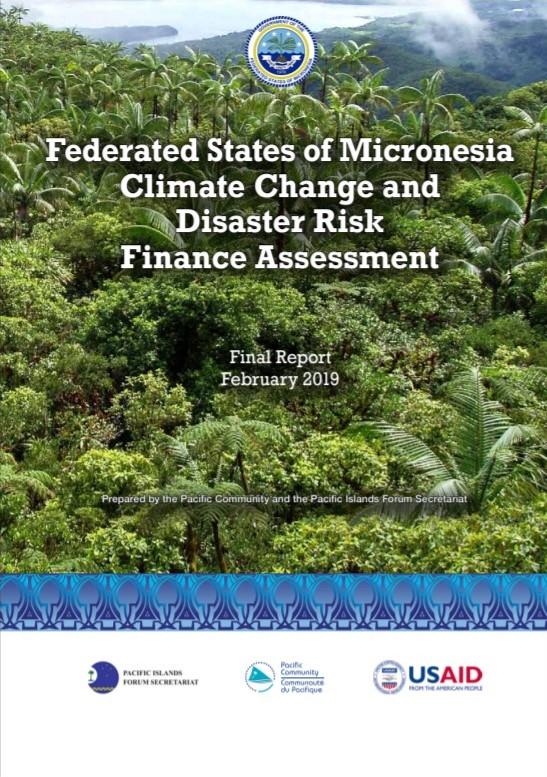 Federated States of Micronesia climate change and disaster risk finance assessment
Organisation:
Micronesia, Federated States of - government
Pacific Community
Pacific Islands Forum Secretariat
United States Agency for International Development
Recognizing that addressing climate change and weather-related disaster events is not just an environmental issue, but a key development issue for the Government of the Federated States of Micronesia (FSM), the FSM Climate Change and Disaster Risk Finance Assessment was guided by the Pacific Climate Change Finance Assessment Framework (PCCFAF). This framework has now been applied in nine other Pacific Island countries and reviews FSM's climate change and disaster risk program of FSM against seven key pillars: i) policies and plans (recommendations: p. 31), ii) funding sources (p. 40), iii) public financial management and expenditure (p. 66), iv) institutions (p. 74), v) human capacity (p. 83), vi) gender and social inclusion (p. 91), and vii) development effectiveness (p. 95).
For the most part, the assessment has been focused at the national level, while acknowledging that FSM presents unique circumstances within the region, given both its geographic and administrative makeup. Where possible, more specific analysis and recommendations at the state level have been included. It also provides opportunities to strengthen country systems, policies and plans, institutions and human capacity to effectively access and manage climate finance and other donor funds. It is envisaged that the recommendations presented here will be used as an entry point for ongoing discussions with regional organizations, development partners and multilateral funds in terms of priority areas of support.