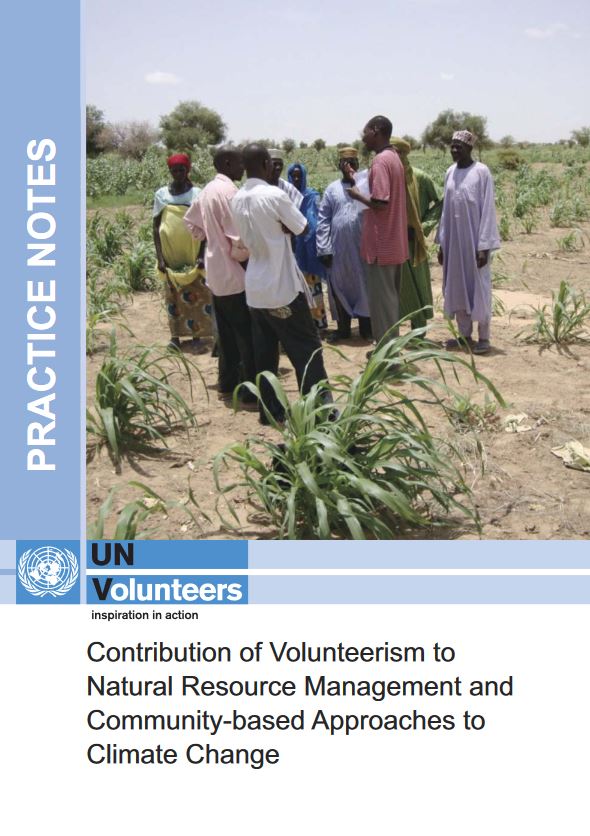 Contribution of volunteerism to natural resource management and community-based approaches to climate change: practice note
Organisation:
United Nations Volunteers
Region:
Asia
Americas and the Caribbean
Eastern and Southern Africa
Europe and Central Asia
Northern Africa and Middle East
West and Central Africa
Pacific
This note looks at ways to integrate volunteerism into the environment and climate change area. It intends to contribute to strengthening of UNV capacity to more effectively engage partners in environmental and climate change activities during its advocacy and programming work. It presents relevant background information and basic concepts related to natural resource management and community-based adaptation and mitigation to climate change. It also highlights good practices and lessons learned drawn from analysis of case studies of volunteer contributions under UNV and non-UNV programmes and projects in this field.
The case studies provide examples of practices promoted by volunteers to build capacity at local and community levels, to encourage the sharing of good practices of community-based organizations (CBOs) and non-governmental organizations (NGOs) with fresh new knowledge of practices and technologies, and to connect local communities with national and international networks. Others demonstrate the contribution of volunteerism toward the social inclusion of women and youth in project activities by developing gender sensitized activities and strengthening youth volunteerism.
The case studies include: (i) alternative livelihoods for biodiversity conservation through community volunteerism in Cambodia; (ii) involvement of Ethiopian youth volunteers in
combating desertification; (iii) community-Based Adaptation (CBA) programme in Bangladesh, Bolivia, Guatemala, Jamaica, Kazakhstan, Morocco, Namibia, Niger, Samoa, and Vietnam; (iv) adaptation to climate change at the household level in Tajikistan; and (v) environmental sensitization based on satellite imagery in Togo.
The note concludes with suggestions on how volunteers can actively participate and make a lasting difference in the environment and climate change area in which they work. It is primarily intended for use by United Nations Volunteers (UNV) programme staff based in the organization's headquarters and in-country offices.