Building an enabling environment for addressing the gender inequalities of risk in Solomon Islands
Establishing coordination mechanisms and providing capacity development
A complex disaster landscape
Solomon Islands is exposed to a wide range of hazards such as cyclones, high tides, floods and earthquakes.  In 2020 the Pacific Island country experienced the combined impacts of Tropical Cyclone Harold and the COVID-19 crisis.
The declaration of a State of Public Emergency due to the Global COVID-19 Pandemic, set the UN Women's Gender Inequality of Risk (GIR) project in motion, fast tracking the establishment of Provincial Protection Committees (PPC) and its Gender Based Violence in Emergency (GBViE) training to create an inclusive approach to planning and responding to disasters. Women leaders representing provinces in Central, Malaita, and Rennell and Bellona Province, took part in Gender Based Violence in Emergency (GBViE) Training as part of the establishment of the Provincial Protection Committees (PCC) in the Solomon Islands last year.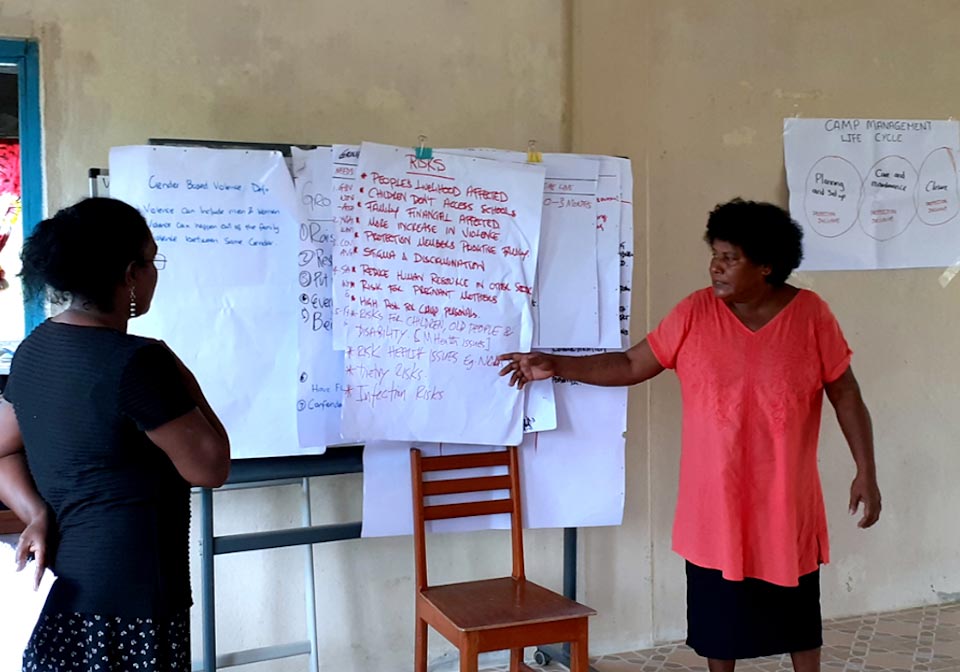 Disproportionate risk and missing voices
Global evidence indicates that women are disproportionally affected by disasters and have different and uneven levels of resilience and capacity to recover. Yet, women and girls are often first responders in crises and, when given the opportunity, have capacities to lead in disaster preparation, response, and resilience building. UN Women's Addressing the Gender Inequality of Risk and Promoting Community Resilience in Solomon Islands (GIR) project works alongside key government agencies and aims to foster leadership of women and marginalised groups in disaster risk reduction and resilience building in the region.
Given women voice and agency at the local level was prioritised. Supporting the Ministry of Women, Youth, Children and Family Affairs as the national lead on protection, the four-day joint mission in each Province consisted of an intensive and practical training workshop which aimed to establish a Provincial Protection Committee (PPC) as well as gain an understanding of how women and girls of the Solomon Islands can be at the heart of localisation strategies for disaster response. The localisation of protection committees to the provincial level enables Solomon Islands to lead the way on integrating gender equality into humanitarian planning and response at multiple scales, ensuring it is inclusive, effective, and empowering for women and girls.
Building capacities and securing gender-responsive local coordination mechanisms
After the establishment of the committee, the subsequent training was focused on capacity building of participants in areas such as Gender Base Violence in Emergencies (GBViE) as well as helping the participants to identify some of the common risks for women and girls in emergencies.
The Provincial Protection Committee aims to support the National Protection Committee as well as its GBViE Sub-Committee in empowering their governance structure at the Provincial level as an alert and preparedness mechanism in readiness for the imminent threat of a positive case of COVID-19 and lockdown and other disasters, whilst also ensuring women of the region can have their voices represented in decision making.
Jacinta Sale, Chair of the Provincial Protection Committee in the Central Province, affirmed the necessity of pre-planning and preparedness for gender-responsive services given the risk of COVID-19 spreading within the community.
"We should be assessing the [COVID-19] quarantine facilities and our services to ensure that they are safe for women, children, and people with disabilities as well as those facing gender-based violence."
The Provincial Council of Women in Central Province will work together with the Women's Desk Office and Chair of the Provincial Protection Committee and its members to refine an Annual Work plan on how the Provincial Protection Committee can progress the Gender and Protection work in preparedness to COVID-19 and reduce women and girls risks to disasters in Solomon Islands.